Real Estate in Waynesboro, Pennsylvania
PURCHASE A NEW HOME IN WAYNESBORO AWAY FROM THE BUSTLE YET CLOSE TO THE FUN!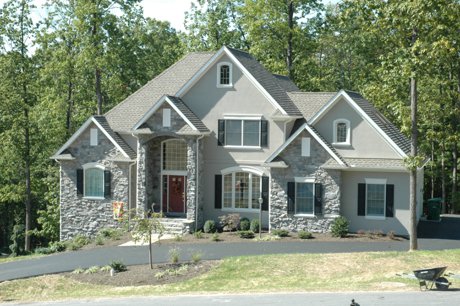 Waynesboro, PA offers residents history, recreation and culture. If you are looking for a new home, Woodcrest Homes has several breathtaking communities for you to build your custom dream home. Dan Ryan Builders' has two communities in Waynesboro, Martin's Ridge and Spring Run. Both communities' feature single-family homes designed for the way you want to live.

Located close to shopping and recreational facilities such as Waynesboro Country Club and Ski Liberty, Waynesboro is a great place to find real estate for sale. The houses for sale in Waynesboro are nestled in the foothills of the Blue Ridge Mountains. From the scenic farmland, rolling fruit orchards to historic landmarks, Waynesboro is a great place to call home.

Ideally situated from the bustle of the more metropolitan areas, Waynesboro is within 15 to 30 minutes from major highways to easily travel to nearby Philadelphia, Pittsburgh, Baltimore, and Washington, D.C. With the good weather and low crime rates, you'll love it here. A Realtor from Coldwell Banker Innovations would be happy show you what houses are for sale in beautiful Waynesboro, PA. Our real estate agents are very familiar with the housing market in the region. They can show you real estate in other Pennsylvania towns such as Greencastle, Chambersburg, and Mercersburg.

Two miles north of the Mason-Dixon line, Waynesboro is located in the southern part of Franklin County, Pennsylvania. John Wallace, a Scotsman, began the community around 1749 when he settled by a spring located a few hundred yards west of the Antietam Creek.

John decided to layout a town and placed 90 lots on the market in 1797. The town was named Waynesburg, after his commanding officer, General Anthony Wayne, in the war. In 1831, when the federal government ruled that the names of post offices in any one state could not be duplicated, the town was re-chartered and took the name Waynesboro as its corporate title.

Due to its location on the frontier at the time of the French & Indian War (1755-1764), Waynesboro, PA was in vulnerable position. It became the scene of some of the Indians most barbarous raids. According to local lore, two young girls, the Renfrew sisters, were attacked and killed by Native Americans while washing laundry in a creek close to their home.

During the Civil War, Waynesboro was once again cast in the role of a frontier town due to its close proximity to the Mason-Dixon line. According to historians, the residents of Waynesboro spent half their time burying and digging up their possessions and fleeing north toward Harrisburg. Watching apprehensively, most residents stayed as 75,000 Confederate soldiers headed north to Gettysburg. For 15 days, Waynesboro was under Confederate rule.

George Frick laid the foundation of Waynesboro's industrial activity. Frick invented a steam engine small enough for farm use, which replaced the cumbersome horse powers. The Frick Company was founded in 1873. The company switched to making refrigeration and air conditioning equipment. They are now part of Johnson Controls, still a leading employer in the Waynesboro area.

A vital part in the cultural activity of the community is education and religion. Built between 1770 and 1780, the first church and school still stand on Bourns Hill overlooking a school complex. The Waynesboro School District, today, consists of 4 elementary buildings, 1 middle building and 1 senior high building.