Real Estate in Thurmont, Maryland
BUYING A HOME IN THURMONT, MD IS A STRESS-FREE PROCESS WITH COLDWELL BANKER INNOVATIONS.
Thurmont, MD known as the "Gateway to the Mountains" is a quaint town that families love to call home. If you are looking for houses for sale that are convenient to shopping and recreation, you've found the perfect place. Thurmont is home to some of the most beautiful property in Maryland… from farms and land to townhomes and single-family homes. You're sure to find the real estate you've been dreaming about.


In Thurmont, just minutes from Rt. 15, is a 1-car garage townhome community called Creekside. The townhomes located in a quiet enclave surrounded by trees are built by Dan Ryan Builders. These spacious townhomes are priced from the mid $200's.

Coldwell Banker Innovations is the #1 Independently Owned Coldwell Banker Franchise in Maryland servicing the Maryland, Pennsylvania, West Virginia, Virginia and Washington Metro area. Our main office is in Hagerstown, MD with two additional offices, one in Frederick, MD and the other in Greencastle, PA. To find houses for sale in Thurmont, a Coldwell Banker Innovations Realtor can assist you in finding the perfect place. Our real estate agents can help you find houses for sale in other Frederick County towns such as Frederick, Middletown, Mount Airy and Walkersville.
HISTORY OF THURMONT
Thurmont is located in the northern part of Frederick, MD just 10 miles from the Pennsylvania border. In 1751, Thurmont was originally incorporated as the Town of Mechanicstown. In 1894, the name was changed to Thurmont by an act of Maryland General Assembly.

The Western Maryland Railway built its main railroad line to Thurmont in 1871. It connected Thurmont with Baltimore and later with Hagerstown and Cumberland. Thurmont is home to Camp David, the presidential retreat. The 38th G8 Summit was held at Camp David in May 2012.
THURMONT RECREATIONAL ACTIVITIES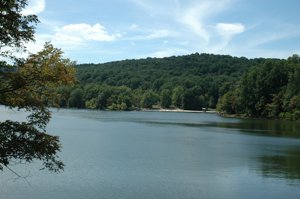 Cunningham Falls Park and Catoctin Mountain Park offer residents and visitors year round outdoor activities. Cunningham Falls State Park is divided into two separate yet unique areas. The William Hock Area located 3 miles west of Thurmont on Route 77 features a 78-foot cascading waterfall, winding hiking trails and a scenic 43-acre lake. The Manor Area off of Route 15, 3 miles south of Thurmont has the Scales and Tales Aviary, picnicking, camping, playground and the historic Catoctin Iron Furnace.

U.S. Highway 15 is the main commuter route for residents who work in Frederick, Montgomery County and Pennsylvania. The annual Catoctin Colorfest, an arts and crafts festival draws in approximately 125,000 people each fall.


Just north of Thurmont off of Rt. 15 is Emmitsburg, MD. Located behind Mount St. Mary's University and Seminary in Emmitsburg is the National Shrine of Our Lady of the Lourdes. The Shrine is a replica of the famed Grotto of Lourdes in France and is the oldest such shrine in America. Approximately 500,000 religious pilgrims and tourists visit the Grotto annually.